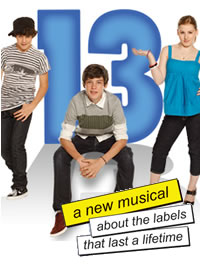 There's a Jewish Haiku titled The Bar Mitzvah: "Today I am a man. Tomorrow I go back to the 7th grade."
The creators of "13: The Musical" understand the dilemma well. Evan is about to embark on this rite of passage into adulthood, but all he can think about is how to get kids to come to his party. Much to his indignation, Evan has been swept out of his cool New York City life and plopped down in the middle of nowhere, also known as Indiana.
But Evan is about to learn a lesson in maturity. He will grow up a little in the space of two acts and over the course of 18 (chai!) songs. What does it mean to become a man, he wonders? It means doing the right thing, he discovers, not to anyone's surprise. He also finds out that tsuris is just part of growing up. It's painful but there's no other way to get there.
Under the direction of Angela Gaylor and David Ayers, "13" is a high-spirited romp through puberty, with all its clichés and truisms. There's nothing remarkably novel about the musical's well-worn plot, but the lively staging and terrific performances make for a very enjoyable theatrical experience.
The best thing about "13" is that the actors are all very close to the age of the characters they play. There are no grown-ups in the play – and no kids with wigs and fake pot-bellies playing them. The actors are free to let loose as they express the qualities of the early teen years:  exuberance and flirtatiousness, sarcasm and scorn, and a lot of insecurity that is behind it all.
The second best thing about "13" is the talent of the teens in the production, who do equally well singing and acting – and have fun with the lively choreography. These young actors are obviously benefiting from being part of Parlando's Broadway in Boulder Studio. The professionalism of the production is quite astounding, especially considering the age of the performers.
The shows are double cast, so there's not much point singling out actors since I have not seen their counterparts. But Zach Litner, a sophomore at Fairview, did an excellent job capturing the gawky teenage angst of Evan. Jimmy Bruenger, who is 12 and attends Denver School of the Arts, was also terrific as the sad-sack kid on crutches. (The joke is that Evan becomes part of a three-some of outcasts: "a geek, a crip and Jew.")
"13" may not be a "10" but it gets high marks for sheer audacity. Or should I say chutzpah?
The final performances of "13" are November 12-14 at Boulder High School. Tickets to "13 the Musical" are available on line at http://www.parlando.com. A portion of each ticket sale will be donated to There With Care, a Colorado-based philanthropic organization, which is committed to helping families with critically ill children.