Boulder's Mary Williams Fine Arts gallery devotes first post-pandemic solo show to recent paintings, including COVID-inspired work, by prolific local Jewish artist
Boulder, Colo. — Capturing light and shadow, color and shape, mood and movement with oil paint, Boulder artist Julia Bright's dedication to the craft yields a wide range of work ranging from atmospheric landscapes to mesmerizing still lifes.
From November 11 until December 1, more than two dozen of Bright's celebrated oil paintings will hang in the Mary Williams Fine Arts gallery in Boulder, one of Colorado's premier art galleries. It is the gallery's first solo show since global pandemic shutdowns began in March 2020.
"I've been painting for more than two decades. For quite a while, I almost exclusively worked on still lifes. But recently, I began exploring landscapes. And during COVID, I became obsessed with the sea," said Bright, who most weekdays spends 10 hours or more in front of her easel. "My work has evolved quite a bit since I began, including the still lifes that got me started. I'm grateful to Mary Williams for this opportunity to show some of my recent work to a wide audience in such a wonderful gallery."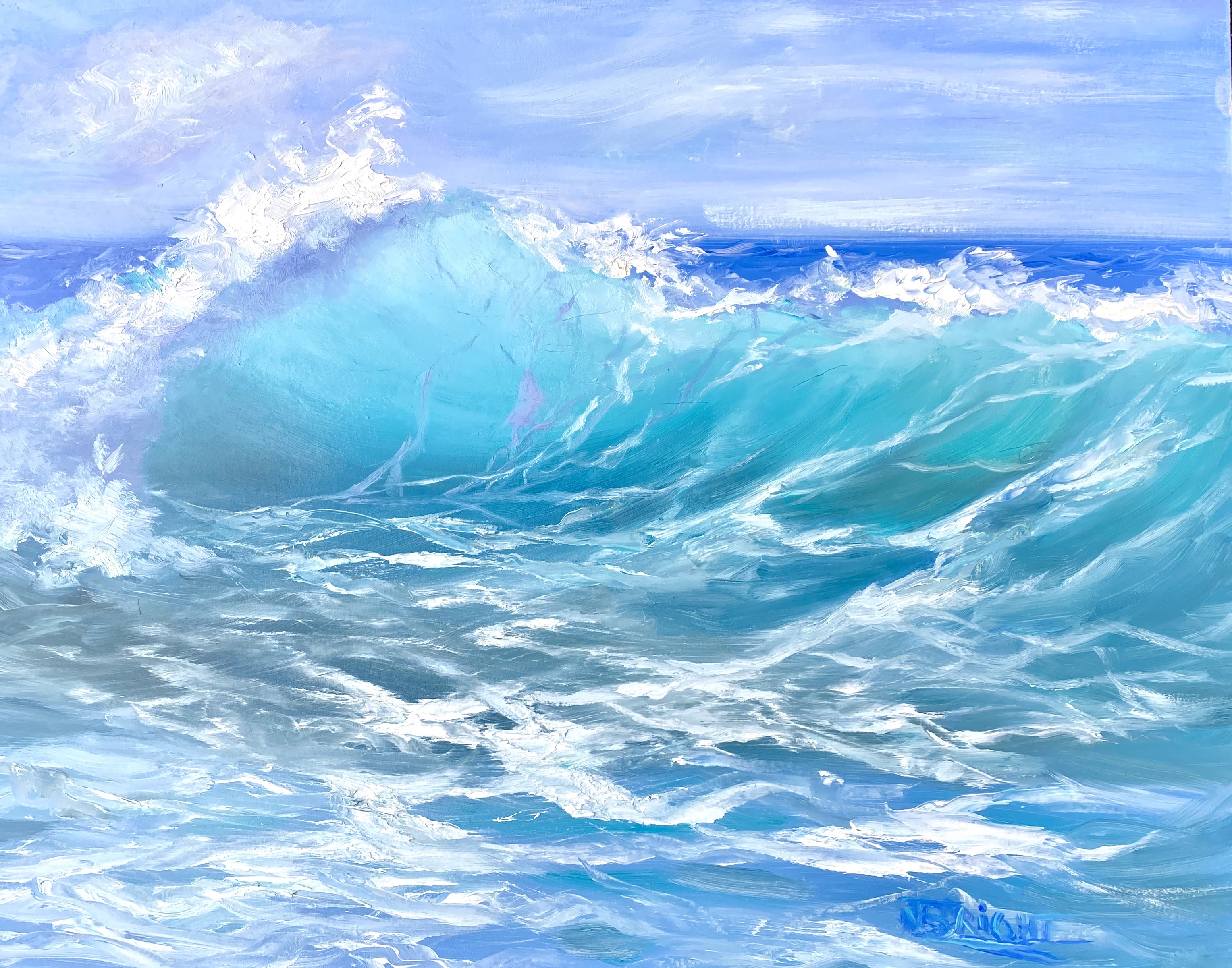 Bright's work has always fixed focused on representational art. Her goal with every painting is to capture what she sees when she studies morning fog over a bridge or a still life of vegetables and pottery. The aspects of life — the silver within a wave, the shadows between cottonwood branches, the way light produces different shades of red on a single rose petal — is beautiful, Julia noted. She spends her days communicating with the beauty she sees all around and expressing it.
Among all of her work, she finds still lifes the most challenging.
"With a still life, you start from scratch. It takes hours just to arrange the subject, and you have to have a visual concept in mind. It's a thoughtful, logical process. If the setup is bad, you won't produce a good painting no matter how good of a painter you are," Bright said. "How does light move through the picture? How do you want the viewer's eye to move around the picture? Is color the most important element? Edges? Shapes? Tension?"
November's solo show follows an exhibit at the Loveland Public Library that spotlighted her vivid, COVID-inspired seascapes.
Bright has exhibited her work at the Oil Painters of America National and Western Regional Juried Shows, The Swiss Art Expo in Zurich, Switzerland, The Littleton Museum of Fine Art Annual Juried Show, Greenhouse Gallery Salon International Annual Juried Show, Richard Schmid Fine Art Auction, Boulder Art Association's National Juried Shows, where she received the corporate award of excellence two years in a row, and at the Art Students League of Denver's Art & Soul Juried Show & Auction.
Her work hangs in private collections in the U.S., Canada, Asia and Europe. Bright is an elected member of American Artists Professional League, an associate member of the Oil Painters of America (OPA) and American Impressionist Society, and a member of the Boulder Art Association. Bright is represented by Mary Williams Fine Arts in Boulder, Colorado, and the Singulart Gallery in Paris, France.
Bright also has a long and rich history in Boulder and Denver, arriving here with her family (parents and grandmother) from the Soviet Union in 1979 during the height of the cold war:
"My father was a dissident who grew up in St. Petersburg. Having never joined the Communist party, as was required at the time if one wanted to live in the Soviet Union, he received dissident literature from America and Israel, and disseminated it in Russia and Lithuania. Our life in the Soviet Union was not very comfortable due to my father's activities and due to the fact that we were Jewish. We all have many stories of discrimination, which I will not go into right now. At the time, thanks to the Jackson-Vanick amendment, and the help of an American Jewish organization named HIAS we were able to immigrate, having given up our Russian citizenship, and ending up without a passport, and therefore, citizens of no country.
"We had a long and arduous journey through Austria and Italy, with no funds and nowhere to live, and finally ended up in Denver thanks to my parents' occupations. They were both engineers, and with an oil boom at the time in Colorado, both found jobs in their professions. I had just finished 6th grade at the time we landed in Denver. Our family were one of the very first success stories of Soviet Jewish immigrants carving out a life in Denver – there were very few Soviet Jewish immigrants here at the time, as Denver was a "restricted" city for Soviet Immigrants, unlike New York, Boston, and other cities on the East Coast. Many Soviet doctors, lawyers, physicists and mathematicians ended up as cleaners, manicurists and babysitters in Denver, but my parents managed to find work in their chosen profession.
"I later went to school at CU, got married to another Russian immigrant from Minsk, who is now a CU professor and Assistant Vice Chancellor for Research at the University, and had a full career in marketing, painting all the while in my spare time, and showing in galleries here in Boulder, Wyoming, New Orleans, Florida. Eventually I decided to focus on painting full time. My husband and I initially lived in Cincinnati, where we moved for his job, but the pull of Boulder was too strong, and we ended up here eventually. I also lived in France for a year after completing my undergrad (I speak French fluently), then got an MBA in Ohio. We lived in Switzerland as well for a year during my husband's sabbatical. Our kids went to Boulder Jewish Day School when it was still in existence, and we were members of Temple Emanuel in Denver for a long time, then Har Hashem for a while."