Denver, CO – After 22 years at Rose Community Foundation, Lisa Farber Miller, senior program officer for Jewish Life, today announced her plans to leave the Foundation effective February 1, 2019.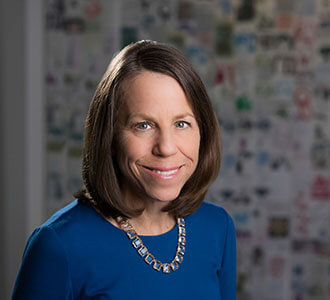 Ms. Farber Miller has been an integral part of both the Foundation and the Greater Denver Jewish communities for decades.
"When I was recruited to be the Foundation's first Jewish Life Program Officer at its inception 22 years ago, I did not imagine then that I would stay all these years," said Ms. Farber Miller. "I made the decision to depart a year and half ago, well before we were fortunate enough to have Lindy as our new leader. This is the timeline I chose for myself. I have loved my time at the Foundation and remain passionate about the Foundation's mission, leaders, and staff. How lucky I am to have spent all these years helping the Foundation and the community to respond to change and build vibrant Jewish life here."
Lisa directs the Foundation's Jewish Life program area, which works to create and sustain a more welcoming, vibrant, diverse and inspiring quality of Jewish life that engages more Jewish people. She has been instrumental in creating and directing many major initiatives that have had lasting impact on Jewish life including The Endowment Challenge, Rose Youth Foundation, BOOST (Building Organizational Operating Strength Together), Live On: Build Your Jewish Legacy, Roots & Branches Foundation, BUILDing Jewish ECE, and MazelTogether.org.
In February, Ms. Farber Miller will return to the nonprofit strategic consulting practice that she had for 13 years before she joined the Foundation.
"I have been deeply grateful for Lisa's support, partnership and wisdom since I joined Rose Community Foundation 11 months ago, said Rose Community Foundation President & CEO Lindy Eichenbaum Lent. "After 22 incredible years with the Foundation, she has more than earned the opportunity to explore new and exciting priorities and personal and professional adventures in this next phase of her life."
Lisa has generously provided three months advance notice and is committed to ensuring a smooth transition. The Foundation celebrates her legacy and its commitment to continued funding in the Jewish community is steadfast. Jewish Life Program Associate Vanessa Bernier will play an important role during the transition and beyond.
As senior program officer at Rose Community Foundation since 1997, Ms. Farber Miller has also served as an advisor to many national Jewish projects, including the Jim Joseph Foundation Teen Advisory Committee and the Jewish Teen Funder Collaborative, the National American Jewish Giving Study Connected to Give Research Advisory Committee, and served on the executive committee of the Jewish Funders Network board for six years. She has been an evaluator for many years for Slingshot, A Resource Guide for Jewish Innovation.
Her community involvement has included serving as a board member of Colorado Public Radio, Jewish Funders Network, Anti-Defamation League, Big Sisters, and the Denver Cooperative Preschool. She and her husband David are parents of two sixth-generation Denverites and the grandparents of four, including three seventh-generation Denverites.
About Rose Community Foundation
Rose Community Foundation strives to enhance the quality of life of the Greater Denver community through leadership, grantmaking and donor engagement – stewarding philanthropic resources and investing in strategic and innovative solutions to enduring challenges and emerging issues. Since its founding in 1995, the Foundation has granted more than $270 million to organizations and initiatives focused on Aging, Child and Family Development, Education, Health and Jewish Life in the seven-county Greater Denver area – recently adding a cross-programmatic community action overlay of support for nonprofit organizations serving immigrants, refugees and communities vulnerable to discrimination and hate crimes. For more information, visit www.rcfdenver.org.