On Oct 13, as part of its lunch and learn series, ACE presents "Mad Magazine: The Popularization of Jewish Humor."  The talk, with Kathryn Bernheimer and David Spiro, will focus on the many – and mostly Jewish – creators behind the iconic comic institution.
Just today, the world lost one such artist. Jack Davis, one of the founding artists on the publication in 1952, contributed to the magazine for several decades, drawing many portraits of its mascot Alfred E Neuman.
Davis was once asked about his background.
"The EC titles, and especially Mad, had such a New York sensibility, specifically a kind of urban Jewish sensibility, which was very much not your background."
JD: I know, but that doesn't make any difference. I like to see people happy. In my book you can probably read about it, but the only playmate I had in the summer time was a black boy, my age, and we got along great. He was a buddy; he was a friend. He and I used to wrestle and fight and do whatever.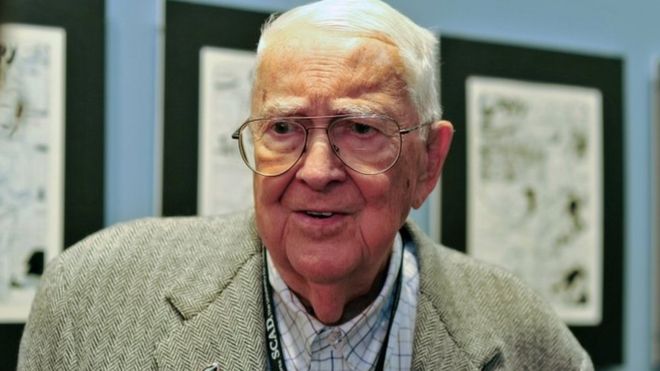 Cartoonist Jack Davis, the "long-time legendary" artist on the US magazine Mad, who died at the age of 91, also created posters for films such as The Long Goodbye and Bananas, 
Mad art director Sam Viviano said Davis' "immediately recognizable style revolutionized comic illustration." A spokesman for the magazine, which began as a comic book in 1952, said a list of his "most legendary pieces would run to several pages in length".
He added: "Among his most iconic parodies from Mad's comic book days are of The Lone Ranger and High Noon.
"From the magazine, his notable parodies include spoofs of Raiders of the Lost Ark, Gone with the Wind, and M*A*S*H."
The magazine's editor John Ficarra said there "wasn't anything Jack couldn't do".
"Front covers, caricatures, sports scenes, monsters – his comedic range was just incredible.
"His ability to put energy and motion into his drawings, his use of cross-hatching and brush work, and his bold use of colour made him truly one of the greats."