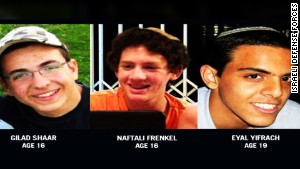 This past week has been and continues to be a hard week for Israel, and the Jewish people as a whole.  As a parent, one can only imagine the pain and anguish the parents of the three kidnapped teens are feeling at this time. The pain is unimaginable as the parents wait for the boys to come home.
As Jews we are one family, and when one is in pain, we all feel the pain. 
We at Chabad of Boulder County will be holding prayer services in the merit of the kidnapped teens, this Shabbat at 4900 Sioux Drive, from 10:00 am – 12:00 pm. These prayers are open to all.  Please join your voice for prayers for the safety of these young boys.  Please advise us if you will be joining by emailing chabadofboulder@gmail.com.
Yaakov Naftali Ben Rochel Devorah
Gilad Michoel ben Bat Galim
Eyal ben Iris Teshura
 We are confident that in the merit of all the mitzvoth done in their merit, our boys will have a safe return and join with their family, friends, and all of Klal Yisroel.
Rabbi Pesach Scheiner