Jews of Color Speak about Moving from Welcoming to Belonging
The next event in the series Amplifying Voices will be on Sunday, December 6 at 10:30 am. 
Panelists April Baskin, Gamal Palmer, and Evan Traylor discuss their experiences as Jews of Color and share strategies to combat Racism and Anti-Semitism. The discussion is moderated by Candace Manriquez Wrenn.
This program is the fourth in the Amplifying Voices series, a series designed to explore the topic of race and bring together ideas of teshuva (recommitting to ways we can do better), personal growth, and reckoning. The series provides opportunities for reflection on race, religion, and identity, generating authentic and meaningful conversation so that we can learn to engage the world with sensitivity and compassion.
Register here in order to receive the Zoom link that you'll need in order to attend. The Zoom link will be emailed within 24 hours of the start of the program, and then again one hour prior to the start time.
Candace Manriquez Wrenn is currently the director and an associate producer for the Marketplace Morning Report, which has an audience of more than 10 million listeners, according to Nielsen Audio. She previously worked at American Public Media's Marketplace as an associate producer. There, she produced interviews, wrote and edited copy, and edited audio for the national daily broadcast. She has also worked in reality TV and late-night entertainment TV, with the Jimmy Kimmel Live Show. Candace joined the Department of Journalism & Public Relations in 2018. Before coming to Long Beach, she taught at the University of Arizona's School of Information and in the Maricopa County Community College District, specializing in interpersonal and intercultural communication, collaborating in online communities, and small group communication.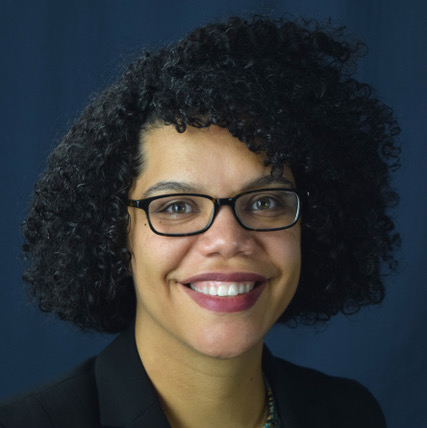 April N. Baskin is the Principal of Joyous Justice Consulting where she provides highly-customized life coaching and diversity consulting and also serves as the Racial Justice Director of the Jewish Social Justice Roundtable. She is the Union for Reform Judaism's immediate past Vice President of Audacious Hospitality, and conceived of and is currently hosting the first season of their latest podcast, Wholly Jewish. Before founding and developing the URJ's exciting leading edge department, she served as the National Director of Resources and Training at InterfaithFamily. Dedicated to building a stronger, more inclusive Jewish community committed to social justice, April has spent over 15 years advocating for Jewish diversity inclusion throughout North America in a variety of ways, including facilitating LGBTQ educational trainings through Keshet and writing a thesis about the experiences and identities of Jews of Color in American Judaism.
Gamal J. Palmer's friends and fans alike hail him as a master mentor, coach, and facilitator of art on account of his ability to help people gain clarity on their business ideas, goals, and roadblocks. Growing up in West Mt. Airy, Philadelphia, a neighborhood characterized by a racial and religious diversity that was uncommon in the 90's, Gamal became skilled at building bridges from a young age. Gamal is the Senior Vice President of Leadership Development at the Jewish Federation where he is responsible for several leadership programs that include the Community Leadership Institute (CLI), which trains young adults ages 20-40 to be effective board and committee members of Jewish non-profits, and other social initiatives throughout Los Angeles. In 2016 Gamal's life experiences helping others fused with his love of theater and led him to start Global Eye Entrepreneurs: A non-profit creating pipelines to power for male innovators and business men of color. His devotion for social entrepreneurship, along with the unique perspectives informed by his international experiences have contributed to the formation of Global Eye's authenticity and relevance. Gamal facilitates workshops and presents keynotes on a myriad of topics that cover leadership, diversity, and entrepreneurship.
Evan Traylor, originally from Oklahoma City, serves as the associate director for college engagement at the Union for Reform Judaism, after spending two years as the inaugural URJ presidential fellow for millennial engagement. Evan graduated from the University of Kansas studying political science, Jewish studies, and leadership studies. He is a past NFTY president, Kansas Hillel intern, student member of the Hillel International Board of Directors, and co-founder of the Hillel International Student Cabinet.
This is a partnership program of the Boulder and Tucson JCCs.