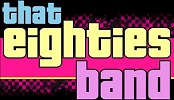 That Eighties Band will headline the evening at Harmony+Hops, Har HaShem's spring fundraiser on Sunday, May 5 at 4:00 pm.
Har HaShem's house band, Or Zimrah, will kick off the afternoon, followed by the great bluegrass music of Chain Station, and finally, That Eighties Band.
We'll be pouring samples of beer from 12 Degree, West Flanders, and Stem Ciders. Guests will have a choice of dinner from three food trucks serving tacos, brisket, and yakitori grill.
It's going to be a great evening of live music, beer, and food!
Har HaShem aspires to connect people in celebration and support, to inspire their personal growth, and to act to make the world more just. Harmony+Hops is key to that goal. The afternoon strengthens connection among members and friends and raises vital financial support for educational and social justice programs.
Tickets are now on sale. Buy your tickets here.