I first met director Roberta Grossman when she came to the Denver Jewish Film Festival with her wonderful film about Hannah Senesh, "Blessed is the Match." I chose her next film "Hava Nagila" as the closing night of the first Boulder Jewish Film Festival. Her latest film, "Above and Beyond" was the Centerpiece Event in March, with producer Nancy Spielberg in person, and we will show it again at the Boe on Veteran's Day.
Her next film, another collaboration with Nancy Spielberg, will also be shown at the Boulder Jewish Film Festival. Because of her track record, I am booking the film sight unseen. That's how much I respect her work, and that of Nancy Spielberg.
Now you too can demonstrate your faith in their uncanny ability to bring important subjects to light.  The filmmakers have just launched a crowdfunding campaign on IndieGogo! To make a donation, visit http://www.whowillwriteourhistory.com/
Here's how they describe "Who Will Write Our History."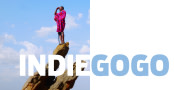 Imagine if Anne Frank's diary had never been published. Millions fewer people would know about the Holocaust or see the individual faces of its victims. In fact, the world would be a different place.
Now imagine there were twenty or thirty "Anne Frank" diaries, buried under the Warsaw Ghetto in milk cans and metal boxes that had never fully seen the light of day! And what if those milk cans and metal boxes contained more than 30,000 other treasures—poems, paintings, photographs, underground newspapers, essays on hunger, smuggling, the Jewish police, clandestine schools and much more—all collected by brave members of a secret organization who risked their lives so that we, the future generations, would know the truth?
Such a priceless treasure does exist. It's called the Oyneg Shabes Archive. It is the Dead Sea Scrolls rising from the rubble of the Warsaw Ghetto, and yet, few of us even know of its existence.
This film, "Who Will Write Our History," based on the book of the same name by historian Samuel Kassow, will right that wrong in the way only a film can, by making the story accessible to millions of people around the world. But we can only make this film with your help! Please consider making a tax-deductible donation toward the production of through our IndieGogo Campaign.
https://www.indiegogo.com/projects/who-will-write-our-history-production