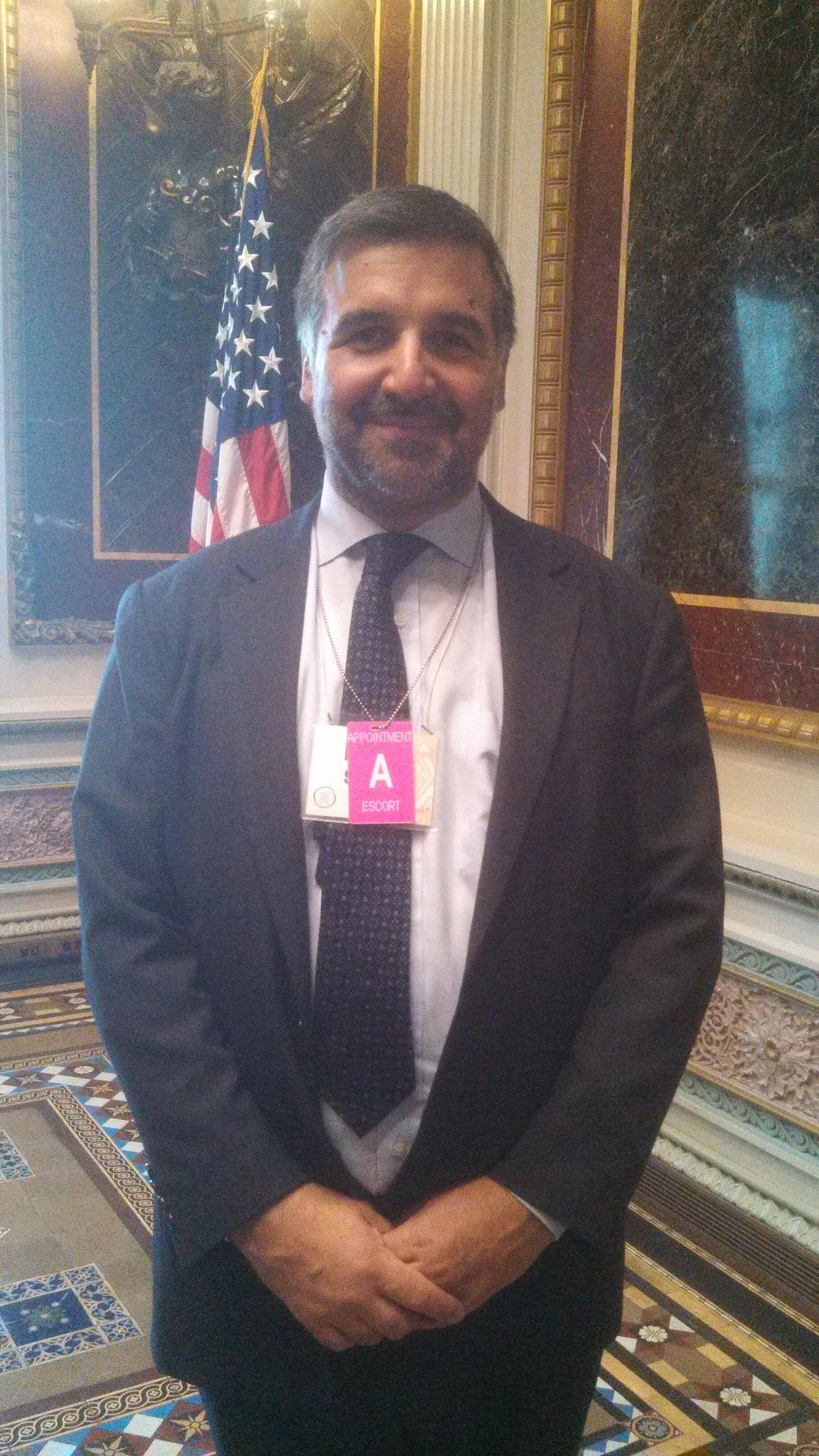 It was not even clear that I would be able to join the White House Briefing with American Jewish World Service (AJWS) on December 11th because of my status as a non-citizen. I got through security easily enough with my Green Card being adequate ID and Sting's "I'm an alien, I'm a legal alien" ringing in my ears. I was given a pink badge rather than a green one like everyone else and mine had the word "Escort" written on it, so while the rest of the group of rabbis, who had travelled with American Jewish World Service to different countries in the developing world, moved through these corridors of power, I had to wait. Non-nationals, it turns out, must be escorted by a White House staffer and it was a little while before one came for me. He was delayed because he was busy trying to find the Vice President's ticket to the Mandela Memorial at Washington Cathedral. We were not quite in the Oval Office, but in the Eisenhower Executive Office Building where a tremendous amount of behind the scenes work in Washington gets done.
Our meeting was in a very historic room called the Indian Treaty Room; a beautifully finished and stately room, most remarkable for the fact that no one knows why it has its name. No treaty was ever signed there, neither with Native Americans nor India. Our host was Matt Nosanchuk, who is Associate Director of the White House Office of Public Engagement and President Obama's head of outreach to the Jewish community, and has been a champion of LGBT causes in the administration. He was given a special shout out at the Obama's Hanukkah party in the White House. Not that I was invited.
This day in the capitol was the end of the Alumni Institute with American Jewish World Service, attended by about 30 rabbis, rabbinical students and educators of all denominations and from around 15 states, all of whom had traveled at some point internationally with AJWS. I was in Ghana in 2011. During this institute, AJWS very excitedly launched its new campaign "WE BELIEVE", which raises awareness and promotes action on issues of gender based violence and violence against LGBT people in many different countries. The political advocacy is in support of The International Violence Against Women Act (IVAWA). Over our few days together, we learned of the horrors that are happening in so many places around the world, including brutal mass rape of women in the Democratic Republic of the Congo as a routine consequence of the ongoing war, where rape is used as an instrument of that war. We also learned of some of the amazing stories of success that transform women from being victims to change makers, through the work of some of AJWS' grantees. So, our briefing in The White House was to learn about what the administration has been doing in support of this work and challenging the horrific violence.
Our main speaker was an extremely impressive, well informed and articulate speaker who certainly encouraged us concerning the thoughtful work of the current administration in this area. Jamille Bigio is the Director of Human Rights and Gender on the National Security Staff and, after some opening remarks from Matt Nosanchuk, she facilitated discussions with Avra Siegel, the Deputy Director for the Council of Women and Girls in the Office of Public Engagement and Gautam Raghavan in the same office, who heads up the work domestically and internationally on LGBT issues. It was spellbinding to hear of the developments that have been made, the scope of the USAID funding, the community based, grass roots organizations that are being supported as well as government agencies, and the depth of wisdom and discernment that is in place with these people in their work.
Add to this the infectious enthusiasm and excitement on the part of the wonderful AJWS staff for this work and how can we not get involved? How can we not learn more about these issues? How can we not add our voices to the petition? WE BELIEVE! Do you?
I also believe in the US government with new eyes, especially this administration. There has been so much in recent months and years that has made me deeply cynical about the American political system, but seeing and hearing these White House staff has given me new insights to the some of the good work of Washington. Government alone can never achieve the changes we might want to see, but along with agencies like AJWS and our own commitment to the issues, there is much that we can do together for the good in protecting human rights around the world. All in all, it was a good day in Washington, D.C.