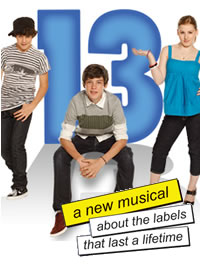 "13" is a new musical by Jason Robert Brown, which is about a kid named Evan Goldman who moves to Appleton, Ind. after his parents split up. It's about Evan finding his real friends and staying true to himself. It's a very up-beat show with a live band and great music. That's all I can say without giving away the hilarious plot!"
Broadway's hit teenage musical, "13 the Musical" is coming to Boulder. The show is about 13-year-old Evan Goldman, who is uprooted from his hometown and starting a new junior high, as he tries to get the in-crowd to come to his bar mitzvah.  Performances have already been held in the Crossroads Theatre in Denver and in the Broomfield Auditorium in Broomfield. "13 the Musical" star Ethan Cohen answered 4 Questions from Boulder Jewish News.
What made you interested in acting?
I got interested in acting in 5th grade, during our school play, "Oliver." After that show, I knew it was something I wanted to continue to do.
What's it like being a Jewish actor?
It's pretty easy when the show is about a Jewish kid having his Bar Mitzvah!
Besides acting, what else do you like to do?
In my spare time, I love to listen to music, play guitar, play Ultimate Frisbee and of course, sing.
What's your biggest challenge in acting or in life in general?
My biggest fear in theater is probably learning to not get too down when I don't get a part or have a good audition. Also not caring what people think of me on stage or off stage.
"13 the Musical" is playing at the Boulder High School auditorium on Friday, November 12, 2010 at 7:30 p.m., Saturday, November 13, 2010 at 2:00 p.m. and 7:30 p.m., and Sunday, November 14, 2010 at noon and 7:30 p.m. Tickets to "13 the Musical" are available on line at http://www.parlando.com. A portion of each ticket sale will be donated to There With Care, a Colorado-based philanthropic organization, which is committed to helping families with critically ill children.